Dubai's vast deserts have been known to bestow unforgettable experiences on tourists. When the sun rises, it creates feelings of romanticism in couples. And when the sun sets, Desert Safari Dubai 2021 provides the ideal Bedouin mood for celebration. Many activities take occur throughout the day. As the weather changes, so do the events that take place in the desert!
The Arabian scenery with its dusky hills was one of Dubai's homes. They were known as Bedouins, and they were nomads who used to travel from place to place in order to make a livelihood. Today, however, these deserts flourish as 4×4 vehicles dare to climb and plunge into the sandy waves. Depending on the reason for your vacation to the desert, you have a variety of choices. For example, an adventure, a cultural excursion, a romantic meal, and so forth. Dubai Desert Safari Tours are organised by a number of travel companies in Dubai.
Desert Safari Dubai 2021 trips are available for online and offline inquiry and confirmation. When you book a Desert Safari Tour with an operator, you must be very clear about what you want. Take down a lot of information from them, such as inclusions, exclusions, risk covers, tour guide data, communicative language, timetables, the kind of vehicle you are being given, what all activities may be combined and which you will have to pay for on the spot, and so on. Because of the savings available, the majority of visitors choose to pay online. But be careful not to ruin your Dubai Safari Tour for a few dollars.
Morning Desert Safari Dubai
When you wish to experience cold breezes flowing over the dunes of the Gulf, the Dubai Desert Safari Morning trip is ideal. This is best appreciated by people who wish to enjoy chilly weather while participating in desert activities such as sandboarding, safari, breakfast, and camel riding. The advantage of exploring in the morning is that you have as much open area as possible to leave your mark. A hot air balloon trip is ideal for adding a unique touch to the morning safari. Beautiful photographs may be taken when the first rays of the sun contact the desert. This way, you'll have the remainder of the day to spend and enjoy Dubai.
Morning Desert Safari @ 150 AED / $45 per Person
Morning Desert Safari Dubai includes 45 minutes of Dune Bashing, Sandboarding, Camel Ride and much more.
Morning Desert Safari + Quad Bike @ 300 AED / Person
Standard Package with 20 minutes of Quad biking self Drive. All-inclusive
Evening Desert Safari Dubai
The Dubai Desert Safari Evening trip is designed for people seeking for a unique experience in the Dubai deserts. These excursions depart in the late evening, as the sun begins to set. You may spend the whole evening participating in activities such as quad riding, sandboarding, belly dance performances, Tanura shows, and Arabian cuisine buffets. You may ride a camel as you make your way to the Bedouin encampment for more activities. Enjoy the renowned Arabian coffee with beautiful views of the countryside as the stars begin to illuminate the dark sky.
When you purchase a Dubai Desert Safari Tour, you will be able to choose between budget and luxury excursions. You may book any of them according on your preferences and the adventurous activities you want to participate in, and you will undoubtedly love them all. Before you make a payment, make sure you have all of the information regarding the trip. Contrast with other operators. This will assist you in determining the finest one. If you are looking for reputable tour operators in Dubai, visit https://thedesertsafaridubai.com/.
Dubai Desert Safari Tours may also be combined. If you are short on time, you may combine Dubai City excursions with Desert safari trips. When it comes to combinations, though, you must prepare ahead of time. Otherwise, simply to conserve money, you may end up not having any.
Evening Desert Safari Dubai @ 150 AED / $45 Per Person
Evening Desert Safari Dubai includes 45 minutes of Dune Bashing, Pick & drop, Camel Ride, Belly Dance, BBQ Dinner and Much more.
Standard Deal @ 150 AED / Person

Pick up via 4x4. 45 Minutes Dune Bashing and more. All-inclusive.
and Much More.
Things to Consider While Booking Desert Safari
Generally, tour providers will arrange for you to be picked up from your hotel or place of stay and dropped off at your destination. If you have alternative intentions, you must notify the operator and prepare appropriately. Safaris take place in deserts distant from cities. So, bring a water bottle, some light nibbles, and a scarf to keep the heat at away.
Hatta Mountains, Dubai Desert Conservation Reserve, and the Lahbab Desert are the most popular locations for desert camps. However, each of the three sites will provide you with a unique experience. The Dubai Desert Conservation Reserve is rich in animal encounters, while the Lahbab Desert exposes visitors to a genuine desert lifestyle.
The dune bashing rite will excite you at the start of the Safari trip. Following that, you may choose from a variety of desert adventure activities such as dune buggy rides, quad biking, sandboarding, and everyone's favorite, camel riding.
Camel Riding Dubai @ 250 AED / $72 Per Person
Camel Riding Dubai includes 45 minutes of Camel Ride, Sandboarding, Dune Bashing. And much more.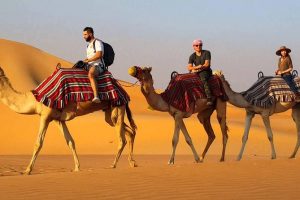 Private Camel Trekking Dubai @ 1200 AED up to 5 Persons
Standard Package Private Vehicle only for you family. All-inclusive
Meals are included in the safari trip based on your preferences. Breakfast is served on morning safaris, and magnificent buffets are served on evening excursions. The desert camps offer continental, Arabian, and Mediterranean cuisine. If you have a meal preference, please inform your operator so that you are not left hungry in the midst of the desert.