Dubai is blessed with vast expanses of awe-inspiring deserts. All tourists to the UAE are enticed by the magnificent golden dunes desert. The Arabian desert scenery changes depending on the time of day. But no matter when you come, the desert never ceases to awe you with its beauty. Though a desert safari may be enjoyed at any time of day, there is a particular appeal and satisfaction in beginning your day with a journey into the depths of the deserts. Morning Desert Safari Dubai Price will be the very reasonable. And adding a fun and exciting camel ride session to this experience is like frosting on the cake. Let's see what the morning desert adventure has in store for you.
What Does a Typical Morning Desert Safari Entail?
Begin your day on a high note by being picked up from your hotel by a 44 chauffeured car. As you gently begin your trip to the centre of the desert, leave the ordinary city life behind you. The scenery totally changes as you are surrounded by beautiful views. There are some fascinating animals, uncommon bird species, and beautiful flora and fauna. A spectacular dawn can be seen, which tints the glistening dunes. The sheer beauty of the desert all around you will captivate you.
Activities in the Morning Desert Safari:
The morning desert safari includes a wide range of activities. You may personalise your packages by including or excluding activities based on your preferences, Morning Desert Safari Dubai Price, and convenience. Select a morning safari that is customised to your particular requirements. A morning safari with camel riding is also an option.
The morning desert excursion typically begins with some dune bashing. As the driver skilfully navigates his way up and down the high dunes, you sit back in amazement. When you climb and descend the dunes, you get to feel the excitement and excitement. Before you can recover from the thrill of the trip, you'll be treated to some more exciting activities. You may do sandboarding, quad biking, or even dune buggy riding. All of these activities are exciting and will give you a surge of adrenaline.
Morning Desert Safari @ 150 AED / $45 per Person
Morning Desert Safari Dubai includes 45 minutes of Dune Bashing, Sandboarding, Camel Ride and much more.
Morning Desert Safari + Quad Bike @ 300 AED / Person
Standard Package with 20 minutes of Quad biking self Drive. All-inclusive
Camels have earned the moniker "The Ship of the Desert" for good cause. Camels are powerful creatures that have been a part of Arabic culture for ages. They are well-known for traversing vast distances for days on end without food or drink. They are very tough animals, which is why they were formerly a crucial mode of transportation. The magnificent dunes of Dubai provide the ideal location for experiencing this tradition, spending time with these amazing animals, and seeing them in their natural environment.
Whether you are a first-time camel rider or an experienced one, our professional guide will offer you a set of instructions to follow. This guarantees a smooth and trouble-free journey. After that, you're ready to jump on the back of a camel and explore the desert's mysteries.
Feel the cold morning air on your face as our experienced guide tells you about the early lives of the people in this area.
Keep your eyes peeled since you may see creatures like gazelles and Arabian oryxes if you're fortunate.
We guarantee that this one-of-a-kind camel ride will be a lot of fun and will put a smile on your face. You may even visit a camel farm to learn more about the different varieties of these magnificent creatures if you are interested. This exercise is more pleasant when done in a group setting with family or friends.
Camel Riding Dubai @ 250 AED / $72 Per Person
Camel Riding Dubai includes 45 minutes of Camel Ride, Sandboarding, Dune Bashing. And much more.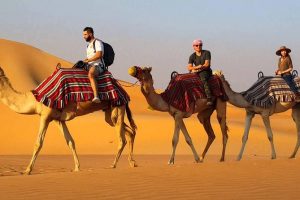 Private Camel Trekking Dubai @ 1200 AED up to 5 Persons
Standard Package Private Vehicle only for you family. All-inclusive
A Memorable Cultural Experience:
A morning desert tour also provides an excellent chance to learn about the wonderful Bedouin culture and Arabian hospitality. You may get henna tattoos, smoke delicious hookah pipes, and pose for photos while dressed in gorgeous Arabian attire. Our guide will also teach you about Emirati history, customs, and traditions. It's time to satisfy your appetite after all of the fun and games. A delectable English breakfast with a variety of delicious local and foreign cuisine awaits you. (Please keep in mind that breakfast is only included if it is part of your selected package.) After breakfast, you will be returned to your hotel, bringing your morning desert safari adventure to a close.
Evening Desert Safari + Quad Bike @ 500 AED / Person
Standard Package with 20 minutes of Quad biking self Drive. All-inclusive
Private Evening Desert Safari @ 1,999 AED up to 5 Persons
Standard Package Private Vehicle only for you family. All-inclusive
For those who are tight for time, a morning desert excursion is perfect with Morning Desert Safari Dubai Price. Unlike a nighttime desert safari, which may last up to 6 hours, a morning desert safari enables you to see Dubai's amazing dunes and participate in activities in a few of hours. If you are planning a vacation in Dubai, be sure to schedule a morning desert safari if you do not have time for an evening one. Also, since the sun will be out when you come, wear comfortable clothing and footwear, stay hydrated, bring sunglasses, and apply plenty of sunscreen.