The tour starts on Palm Island – we see the miniature model of modern Dubai and Palm Island. Proceed to The Villas, known as the street of dreams.
The Madinat Jumeirah hotel, an impressive replica of Venice, presents a unique experience as we walk through its traditional souk (market). Then we enjoy a ride in an abra (wooden boat) and access the different sections of the hotel.
Drive past Dubai Marina and Jumeirah Beach Residence, where we will witness more than 200 towers built on the seashore. We then passed Emirates Road, which is in stark contrast.
Our last stop is at the world-famous Burj Khalifa, the tallest tower in the world that is home to incredible tourist attractions including an observatory, a stylish financial district, and a world-class hotel.
Experience the unique city of Dubai on a Private Tour based on our standard guidelines or as per your needs. A splendid array of skyline displayed in the city attracts tourists from all over the world.
Drive through key landmarks like Burj Khalifa, Palm Island, Mall of the Emirates, and Jumeirah Mosque. Learn about Arab culture as you explore Old Dubai and Fort Al-Fahidi.
This tour includes entry to most attractions, transportation in an air-conditioned vehicle, and hotel pickup and drop-off from Dubai.
Do you want more adrenaline?
When making the booking, you can choose the intensity of the desert safari. If intense emotions are your thing, the extreme safari will guarantee jumps, drifts, and maneuvers by the driver to get your adrenaline pumping. Book your Dubai City Tour tour now. 
To Book Half Day Dubai City Tour there should be minimum of 2 people. If there is 1 person you have to book a private Half Day Dubai City Tour.
Half Day Dubai City Tour includes pickup from the cruise port "Port Rashid" or Sharjah and hotels in Dubai, except those located in the following areas: Sport Motor cities, Dubai Investments Park, Discovery Garden, Jebel Ali, Dubai Production City, Al Barsha South, Al Maha Resort & Bab Al Shams.
Covid-19 measures for Half Day Dubai City Tour
All our services comply with local legislation and health recommendations regarding protection and security to avoid the spread of the Covid-19 virus.
Half Day Dubai City Tour
First, you will be picked up from your hotel or selected location, to begin this Half Day Dubai city tour. You will begin by discovering the oldest part of the city, the area of ​​the Dubai estuary. Get on board a water taxi, called an abra, which was used as the main means of transportation. After the boat ride, you will spend some time in the gold and spice souks. The route will also take you to the Atlantis the Palm, the Burj Al Arab, the Palm Jumeirah and even the Madinat Jumeirah souk. The highly photographed Blue Mosque is another important stop on the visit.
Abu Dhabi City Tour
Get to know the ultra-modern capital, Abu Dhabi, of the United Arab Emirates on this 10-hour Abu Dhabi City Tour from Dubai. Stroll through the white marble masterpiece of the Sheikh Zayed Grand Mosque, admire views of the Yas Marina Formula 1 circuit and Ferrari World, and visit the Heritage Village to learn about Abu Dhabi's pre-oil past and its Bedouin beginnings. Informative guided narration, round-trip transport, and hotel pickup and drop-off to Dubai are included.
Half Day Dubai City Tour Deals
Standard Deal
@
150 AED / Person
Pick & Drop with 4 hours Dubai City Tour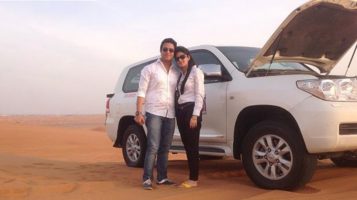 Private Half Day Dubai City Tour
@
900 AED up to 5 Persons
Standard Package Private Vehicle only for you family. All-inclusive
How to
Half Day Dubai City Tour?
Contact our 27/7 Chat Support
Half Day Dubai City Tour Overview
We shall pick you from your hotel/residence.
Visit of Modern Dubai including Dubai Marina, Sheikh's Palace, Sheikh Zayed Road and more
We shall provide you the picture point in the desert to make this tour memorable.
Visit man-made wonder The Palm and Atlantis the Palm hotel till the tourist area with picture point.
Half Day Dubai City Tour Inclusions, Exclusions, Price, and Timings
Adults (Above 9 Years) = 150 AED / Person
Child (From 3 to 9 Years) = 135 AED / Person
Infant (Under 3 Years) = Free
Private Vehicle = 900 AED
Cash to the Driver

Online via Paypal
Evening Desert Safari Dubai
@
150 AED / $45 Per Person
Evening Desert Safari Dubai includes 45 minutes of Dune Bashing, Pick & drop, Camel Ride, Belly Dance, BBQ Dinner and Much more.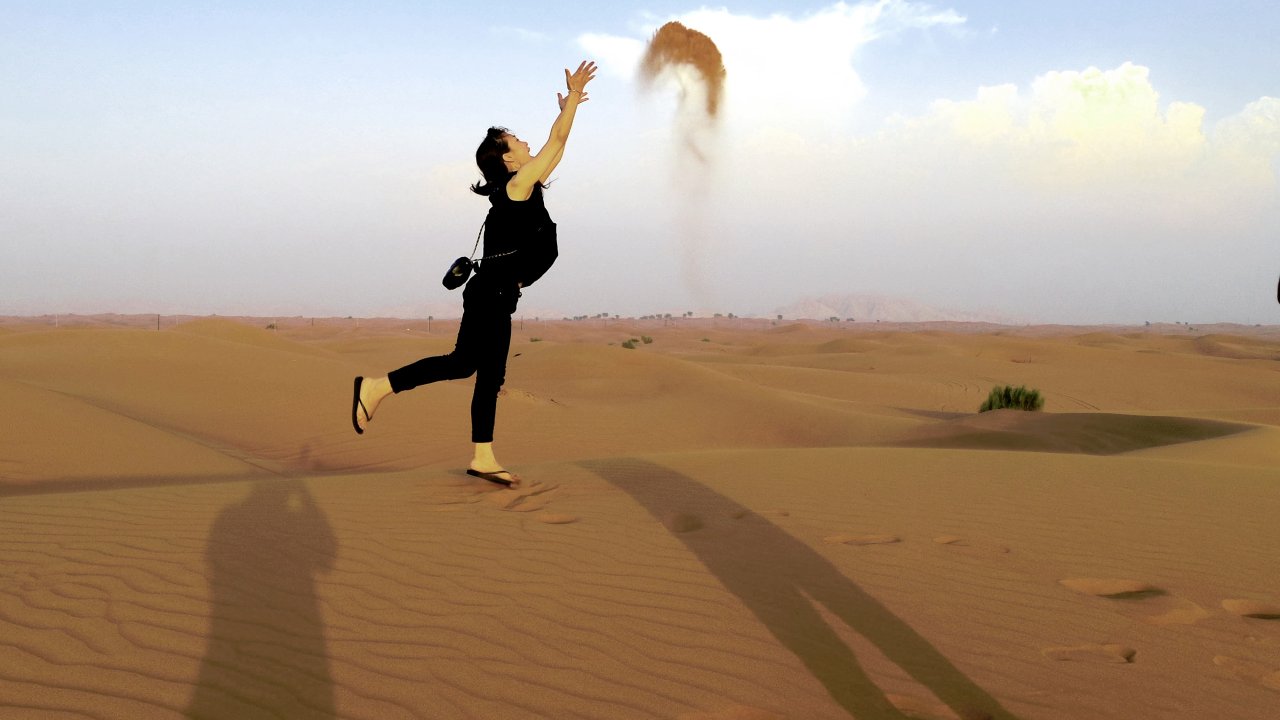 Morning Desert Safari Dubai
@
150 AED / $45 Per Person
Morning Desert Safari Dubai includes 45 minutes of Dune Bashing, Sandboarding, Camel Ride and much more.
Abu Dhabi City Tour
@
150 AED / $45 Per Person
Abu Dhabi City Tour includes Pick & Drop, a 5 to 6 hours sightseeing tour of Abu Dhabi including Grand Mosque, Date & Carpet Markets and muc more.
Camel Trekking Dubai
@
250 AED / $72 Per Person
Camel Trekking Dubai includes 45 minutes of Camel Ride, Sandboarding, Dune Bashing.
And much more.

Dune Buggy Ride Dubai@
350 AED / $129 Per Person
Dune Buggy Ride Dubai includes 45 Self Drive Dune Buggy Ride.
Sandboarding, and much more.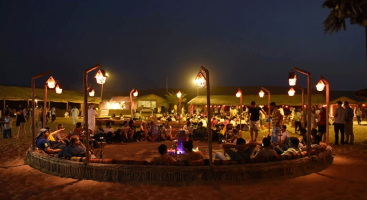 Overnight Desert Safari @
350 AED / $96 Per Person
Overnight Desert Safari Dubai includes 45 minutes of Camel Ride, Sandboarding, Dune Bashing.
Overnight stay in desert camp, and much more.

How to
Half Day Dubai City Tour?
Contact our 27/7 Chat Support
Tips For Your Half Day Dubai City Tour
Wear appropriate clothes to respect the local culture. 
It is recommended to bring both open and closed shoes to participate without problems in the different activities
No Lunch or Breakfast Included in this package
Wear loose and comfortable clothing, such as cotton pants and T-shirts, to make the most of your Half Day Dubai City Tour
Pregnant women, children, and people with health problems can join this activity.
Listen carefully to the instructions provided before each task
Make sure you have a good seat in front of the dance floor for a good view of the live performance
You have to book Half Day Dubai City Tour at least 48 hours prior to your tour date. Use the Booking form OR contact via Whatsapp for more information.

No Lunch or Breakfast is included in the Half Day Dubai City Tour.

All the prices are applicable per person only.

To cancel the trip, inform at least 24 hours before your tour day. NO Cancellation if informed less than 24 hours and NO REFUND will be made.

If you want to reschedule your trip, you must do 24 hours prior to the day of the tour. No charges will be deducted. The rescheduled date of the trip must be made within the same month.

Kids up to 3 Years are Free of Charge, above 3 years same price will be charged as of an adult.

Prices are subject to change without further notice.
We hold the rights on allocation of seating as per the availability.
All the shared transfers are managed on SIC / Sharing with other Tourists unless requested and confirmed for the premium services.
All our vehicles are fully insured to include passengers in the rare event of an accident.
Frequently Asked Questions (FAQs):
Can we take photos with a camel?
Yes, You can take as much photos as you want with the camels.
Is camel dangerous to go near to it?
No at all, Camels are fully tamed. And 100% secure.
Is camel ride dubai safe for the kids?
Yes, Camel Ride Dubai is 100% safe for the kids.
How long is camel trekking?
This hole tour is 4 to 5 hours long. Camel ride is for 40 to 45 minutes.
Is camel trekking safe?
Yes camel trekking Dubai is 100% safe.
Can children drive the dune buggy?
Yes, We've special dune buggies available for children.
How many people sit in a dune buggy?
There are different type of buggies available. 2,3,5 and 7 person seating are available.
Can a pregnant lady drive a dune buggy?
It's not recommended for a pregnant lady to drive the dune buggy.
Do I need a license to Drive Dune Buggy?
No, You don't need a license to drive the dune buggy.
Is Morning Safari safe for the kids?
Kids under 6 months are not recommended for this tour. For Kids above 6 months it's 100% safe and secure.
How to book morning desert safari dubai?
You can book this tour via filling up our booking form. Or you can book it via WhatsApp or online chat.
Is camel Ride available on the Morning Safari tour?
Yes, Camel Ride is available. You can book it on booking time or you can ask the driver to provide you the camel ride there.
Is Quad Bike included in Morning Safari Dubai?
Quad biking is not included in Standard Package. But you can book your morning desert safari with quad bike tour.
Is sandboarding included in Morning Safari Tour?
Yes Sandboarding is included in morning safari tour. There will be no extra cost or charges.
Is there any breakfast in Morning Desert Safari?
No, Breakfast is not included in Morning Desert Safari.
How much morning desert safari cost?
Morning Desert Safari will cost you 150 AED per person in sharing basis. Or 900 AED for up to 6 people in a private vehicle.
What is morning desert safari?
Morning desert safari tour is designed for people who can't go in evening.
Why visit Dubai on New Year's Eve?
Dubai is a city that has grown in tourist interest in recent years, it is estimated that by 2020 there will be 20 million people as visitors. The various attractions that this exotic city offers to foreigners have made it one of the favorite tourist destinations to spend with the family during the Christmas holidays.
Dare to be part of those who live this fascinating experience of receiving the New Year in the best way in Dubai and create pleasant, spectacular, and fun memories with your family or friends.
Is it illegal to drink alcohol in Dubai?
No, Drinking alcohol is not illegal in Dubai as far as you drink in a bar. You can't take your drinks outside the bar.
What to wear in Desert Safari Dubai?
On a Desert Tour Dubai there is no dress code. You can wear anything you are comfortable with. We recommend to get you jacket for evening and avoid any flip flops.
How long is desert safari ?
What is the age limit for dubai desert safari?
Basically there is no age restriction for Desert Safari Dubai. You can enjoy it in any age. But we do not recommend it for Pregnant Ladies, People with back pain issues, People with heart problems.
Which is the best desert safari company in Dubai?
What is the difference between cheap and costly desert safari dubai?
The main difference between cheap and high prices desert safari Dubai is the services we provide. It's a lifetime experience for some people. So we try to provide the best desert safari to our guests. We offer a 4-star buffet with the best services in Dubai.
How much desert safari dubai cost?
What is the difference between Morning Desert Safari and Evening Desert Safari?
In the evening it's 6 hours tour along with a BBQ dinner, Belly Dance, Fire Show, and other camp activities.
In the morning it's e to 4 hours tour with Dune Bashing, Sand Boarding, and Camel Ride.
What is Dune Bashing?
Dune bashing is the ride in the Desert. When we drive the vehicle in the middle of the desert and go across the dunes. It's called dune bashing.
What is the cancellation policy for a Dubai Desert Safari?
The cancellation policy is different for each Dubai Desert safari ticket variant. Most of them allow you to cancel your ticket up to 24 hours or 48 hours before the experience. Please check the cancellation policy before booking your ticket.
What activities are included in a Dubai Desert Combo tour?
Your combo includes a desert safari experience, along with the ability to try experiences like a visit to the Burj Khalifa or Dubai Aquarium, as well as including admission to theme parks or a Dhow cruise.
What are the different types of desert safaris available for Dubai?
You can opt for a morning, evening, or adventurous safari in the Dubai Desert. You can also opt for a combo tour that allows you to visit popular attractions such as the Burj Khalifa and Palm Jumeirah.
How do reach my Evening Desert Safari point?
There is no need to plan the route between your hotel and the location of the Bedouin camp in the desert. Your Evening Dubai Desert safari tour includes round trip transfers regardless.
What are the inclusions of Evening Desert safari?
The activities included in each Dubai Desert safari are different depending on the type of tour you choose when booking. Depending on the ticket you choose, you can take advantage of the hotel pick-up and drop-off service, participate in dune-bashing, sandboarding, quad-biking, camel rides, belly dancing, buffet lunch or dinner, and much more.
Image Gallery Half Day Dubai City Tour
Half Day Dubai City Tour Reviews