Everyone visits to Dubai in order to enjoy a fantastic holiday. Among the numerous wonderful experiences that Dubai has to offer, desert safaris are one of the most popular. Early Morning desert safari, among Dubai's numerous desert safaris, have a certain allure that most other safaris do not. The ability to see the beautiful sights of the dawn is undoubtedly a distinguishing aspect that may set the morning desert safari in Dubai apart from the others.
It may be necessary to ensure that the Early Morning desert safari in Dubai includes enough activities and adventures to follow up on and make the trip as unique as possible.
Early Morning Desert Safari Dubai
Every Early Morning desert safari is made more memorable by the chance to see the enticing sight of the dawn. The most fascinating aspect of the morning desert safari in Dubai is seeing the dawn beyond the Arabian sand dunes. You will be taken on a camel ride in the Dubai desert to see the sun rise.
Once you've found the best spot to watch the dawn, set up camp atop the tallest sand dune for a panoramic view of the rising sun. If you like taking photographs, you may catch the ever-unpolluted pictures of the sun rising over the whole planet in an orange color like never before.
Activities During Early Morning Desert Safari
While seeing the dawn in Dubai is an essential element of an Early Morning desert safari, there are countless other activities and experiences available.
Let's have a look at some of the major activities that everyone can do.
Morning Desert Safari @ 150 AED / $45 per Person
Morning Desert Safari Dubai includes 45 minutes of Dune Bashing, Sandboarding, Camel Ride and much more.
Morning Desert Safari + Quad Bike @ 300 AED / Person
Standard Package with 20 minutes of Quad biking self Drive. All-inclusive
Dune Bashing in Dubai Desert
The main attraction of every desert trip in Dubai is dune bashing. In most cases, you will be picked up from your lodging in a 4WD vehicle. Typically, the vehicle will be a Hummer or a Land Cruiser. The journey will be meticulously planned to guarantee the traveler's safety.
The trip will be taken care of by an experienced driver. The vehicle is continually inspected to guarantee that it is safe to travel. Riding across the Arabian dunes and floating across the Early Morning desert safari is an experience that no one will ever forget. This is the primary reason why most visitors to Dubai desire to do dune bashing.
Sand Boarding Desert Experience in Dubai
After admiring the dawn during the Early Morning desert safari in Dubai, the next activity available to you, apart from dune bashing in Dubai, is sand skating. Drifting across the dunes of Arabia on a skateboard is another sensation you will never forget.
If you've ever skated before, you'll appreciate the sand skating experience in the desert as you move along the dunes' inclinations. You will be given skating equipment so that you may enjoy your skating experience. The crew will also look after you to ensure that no skaters get hurt.
Dune Buggy in Dubai Desert
Along with the thrills of dune bashing and sand skating, dune bugging is another thrilling adventure activity during Early Morning desert safari. If you believe dune bashing and sand skating aren't enough for you, dune buggy is for you.
You will be transported in a specially designed buggy vehicle for dune buggy. The vehicle is constructed to protect the safety of the passengers. The buggy is examined and examined to ensure that it is safe to travel in. You will be driven by an expert driver of the buggy over Dubai's sand dunes for a wild, adrenaline-filled adventure like no other.
Dune Buggy Ride Dubai@ 350 AED / $129 Per Person
Dune Buggy Ride Dubai includes 45 Self Drive Dune Buggy Ride. Sandboarding, and much more.
Camel Riding Tours in Dubai
If dune bashing, sand skating, and dune buggy aren't your thing, a camel ride through Dubai's sand dunes will be. Atop the camel, you may take in the breathtaking vistas of the Early Morning desert safari.
The camel ride will most likely be included in your regular agenda and will last around 45 minutes. If it is not included in your itinerary, you may have to pay an additional fee.
Camel Riding Dubai @ 250 AED / $72 Per Person
Camel Riding Dubai includes 45 minutes of Camel Ride, Sandboarding, Dune Bashing. And much more.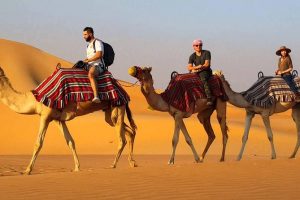 Private Camel Trekking Dubai @ 1200 AED up to 5 Persons
Standard Package Private Vehicle only for you family. All-inclusive
Enjoy The Breakfast Like Nothing Before
After seeing the Early Morning desert safari  in Dubai and participating in a few adventure activities, you will undoubtedly be ready for a hearty breakfast. Don't worry, you'll be treated to a one-of-a-kind breakfast at your campground, which will contain everything from Arabian to foreign cuisines.
You may have breakfast till your tummy is full and satisfied. There will also be numerous entertainment events that you may participate in while eating breakfast at your desert campground.
Making an Early Morning desert safari a one-of-a-kind experience is equally the responsibility of the visitor and the agency. Before embarking on a desert safari, a visitor should familiarize themselves with the schedule to ensure that they obtain what they want.
While an Early Morning desert safari in Dubai frequently begins with viewing the dawn, as planned by the morning safari Dubai, it is important to ensure that all subsequent adventurous activities follow suit. There is no question that witnessing the dawn on your morning desert safari in Dubai is the ideal way to begin your spectacular desert safari adventure.