Dubai is often seen as an urban environment, however taking a camel ride in Dubai completely alters that perspective. The metropolis gives way to a beautiful panorama as you travel into the desert for camel riding Dubai – a startlingly dramatic change of view!
Camels are renowned for their ability to travel great distances without food or water, making these magnificent animals an indelible part of Arabic culture. This also made them a necessary mode of transportation back then. Participating in the camel riding Dubai is one way to experience this heritage. This unique experience, which is typically included in a Dubai desert safari, transports you back in time as you ride the Ship of the Desert and learn about how the Bedouin people travelled in the past.
Relax as you watch the camel's leisurely pace over the wide expanse of the Lahbab desert from your high vantage point.
Why Should You Go Camel Riding in Dubai?
A vacation to Dubai would be completed without a desert safari, which includes a camel ride. While a desert safari provides the excitement of riding in a 4×4 vehicle, a camel ride provides an entirely other thrilling experience. This exercise will wow you like nothing else. Take a camel ride across the windswept desert and take in the scenery.
camel riding Dubai is not only for adults; even children may ride these beautiful animals and find it interesting to be so high off the ground! While most people believe that deserts are totally lifeless, you may be able to see uncommon animals such as Arabian oryxes and gazelle species.
You may see how the Bedouin journeyed through the desert in ancient times and then participate in traditional activities such as henna painting, hookah, traditional falconry, and belly dance. You will also be served a traditional supper. Prepare to go on a culinary adventure with both vegetarian and non-vegetarian choices.
In Dubai, a Typical Camel Ride
A typical camel riding Dubai begins with a 4×4 truck picking you up from your hotel. You then travel into the desert to begin your desert safari, where you may feel the adrenaline rush that dune bashing provides.
Following that, you are transported to a Bedouin camp where you may participate in a variety of activities. While quad riding and sand surfing are two of the more daring activities available, you may also go on a camel safari.
When you arrive at the site, your knowledgeable instructors will show you the ins and outs of camel riding Dubai. They will also make certain that your journey is smooth and worry-free. Camel is a peaceful animal, therefore there is nothing to be afraid of. Everything you have to do is sit back and take in the scenery.
After the activities, you may return to the tent and see how traditional Bedouins amused themselves by smoking hookah and applying henna. You may also have a traditional Arabic feast with both vegetarian and non-vegetarian choices while seeing a tenora dance and belly dancing show before being taken back to your accommodation.
When going on a camel safari in Dubai, choose clothing that are casual, light, and comfortable.
Because deserts may become cold at night, it's a good idea to bring a lightweight jacket or a stole.
Eat your lunch early since the desert safari, especially the camel ride, includes a lot of unexpected movements.
While participating in the exercises, pay close attention to your teacher.
Camel Riding Dubai @ 250 AED / $72 Per Person
Camel Riding Dubai includes 45 minutes of Camel Ride, Sandboarding, Dune Bashing. And much more.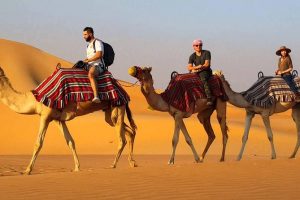 Private Camel Trekking Dubai @ 1200 AED up to 5 Persons
Standard Package Private Vehicle only for you family. All-inclusive
Camel Ride, Quad Biking, and Sandboarding in the Desert
Camel Trekking Dubai + Quad Bike @ 350 AED / Person
Standard Package with 20 minutes of Quad biking self Drive. All-inclusive
Travel in the desert and conquer the dunes with the assistance of an expert. Before heading to the quad riding portion, you will be able to smash the dunes in a 4×4 vehicle. Riding a quad bike over the dunes is a must. Following that, go sand boarding. See a traditional Bedouin camp and participate in desert activities like as camel riding, shisha, and tattoo on the hand. Dancers will amuse you with a belly dance performance and a tenora dance performance. Satisfy your appetite with a delectable buffet dinner and a BBQ, as well as unlimited soft drinks, water, tea, and coffee.